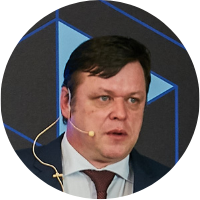 Operations Director | BINBOX GLOBAL SERVICES
Alexandru Patrascu is the Operations Director at Binbox Global Services and INVITE Systems.
He joined Binbox in 2019 to sustain and enhance the transformation process of Technical and Commercial departments. Based on his extensive knowledge in IT and Business Process Management, he established a bold vision and smart company objectives, tailored to the contemporary context and the company's culture. Simultaneously he streamlined the workflows and enhanced the productivity, helping the company reduce a significant percentage of the operations investments.
Over the last 20 years, as a visionary leader and IT expert, he wisely engaged his skills to optimise business processes and grow companies like Idilis SA, Rompetrol, Ensight Management Consulting.
Based on his extended exposure to industries ranging from retail, energy, industrial services, telecom to production, insurance, banking and management consulting, he successfully managed IT-related projects, teams and organisational change.

Azure Stack: Security & Speed
Azure Stack Hub is a hybrid cloud platform that lets you use Azure services from your company's or service provider's datacenter. As a developer, you can build apps on Azure Stack Hub. You can then deploy them to Azure Stack Hub, to Azure, or you can build truly hybrid apps that leverage the connectivity between an Azure Stack Hub cloud and Azure. Binbox is the expert that can deliver to you a huge step for you in Digital Transformation.
Organisations all over the world recognise Microsoft Azure as the most trusted cloud for enterprise and hybrid infrastructure. On top of Microsoft Azure features and benefits, BinBox adds more value to the market:
• Lowest latency time for Azure services in Romania (less than 10 ms)
• Data Sovereignty (all your data is physically stored in Romania)
• High performance SEO
• High speed connectivity to your cloud (up to 10 Gbps fiber-optic link)