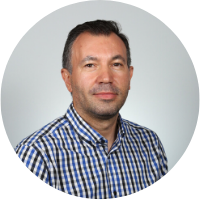 Business Unit Director for Cloud & Managed Services | COMPUTARIS
Cosmin Tudor is the Business Unit Director for Cloud & Managed Services in Computaris, a digital transformation and strategy consulting company with more than 25 years of experience in technology and telecom. Cosmin is responsible for the business line extension with focus on Cloud and Managed Services on top of the Microsoft Cloud technologies.
With more than 20 years' experience in the IT industry, he spent his last 15 years working as Business Unit Director for Cloud & Infrastructure services in one of the top IT service integrators on the Romanian market. He was also involved in important public and private cloud projects across Romania and Moldova.
Smart Redesign for the Cloud: Modernization of Legacy Applications Using Microservices and DevOps
Migrating legacy applications to the cloud? While it takes more than a "lift and shift" approach to tackle the challenges, migration agility and improved solution performance are attainable gains with the smart use of microservices architectures and DevOps methodologies.
Based on Computaris' extensive experience in enterprise app migrations, this session provides an overview of the benefits of app modernization for the cloud, with insights from real-life projects involving complex transitions of legacy apps to Azure cloud.