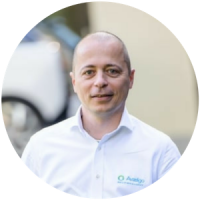 Digital Transformation Manager | AVAELGO
Daniel Popescu is the Digital Transformation Manager of Avaelgo.
Before Avaelgo he worked for Microsoft Romania for more than 18 years, with more than 11 years in Microsoft IT. He worked as Helpdesk Service Technician for 5 years, and after he was IT Manager for Microsoft Romania. During this period he managed the IT for Sales, Marketing and Services division, Customer Support division, and CIAO Shopping division. During his period as IT Manager, he was one of the first IT peoples from Microsoft that implemented Hyper-V in Europe, the Middle East and Africa region.
Later, Daniel was a Partner Technology Advisor and Strategist for Microsoft partners and Account Technology Strategist for Enterprise customers for the Financial and Insurance Industry.
Ever since joining Avaelgo, he acted as a "trusted advisor" for CIO's in order to build a common strategy, a strategy that includes Microsoft technologies and solutions.
Digital Transformation in the Cloud: Prerequisites, Caveats & Risks of Going to the Cloud
We are going touch base on some more specific digital transformation challenges. This session will focus on the technical aspects and potential issues faced when migrating to the Cloud (be it Microsoft 365, Azure, or both), as well as ongoing and proactive approaches when it comes to incident handling, security, change management and cost control once the migration is completed.
Participation at the Cloud Conference is free, based on prior registration.