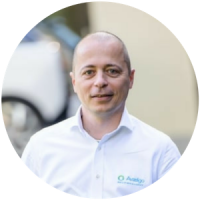 Head of Managed Services | AVAELGO
Daniel Popescu is the Head of Avaelgo Managed Services department. He is responsible for leading, managing and developing the operations teams in our Managed Services Division including, technology implementations and pre-sales, 1st and 2nd line Services desk and Service Management.
Digital Transformation in the Cloud: Prerequisites, Caveats & Risks of Going to the Cloud
Continuing from where we left things off during the morning discussion on Digital Transformation, we are now going touch base on some more specific challenges.
This session will focus on the technical aspects and potential issues faced when migrating to the Cloud (be it Microsoft 365, Azure, or both), as well as ongoing and proactive approaches when it comes to incident handling, security, change management and cost control once the migration is completed.
Participation at the Cloud Conference is free, based on prior registration.