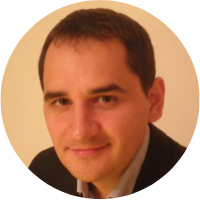 Channel Systems Engineer for South Eastern Europe | FORTINET
Silviu Pufan is a networking and security specialist, with more than 15 years of experience in complex solutions. He was previously involved in important projects across Romania and the region offering support for requirements analysis, design, implementation, testing and acceptance procedures. Since he joined Fortinet, as a Presales Systems Engineer, Silviu has responsibilities across complete Fortinet portfolio, providing channel partners support within the South-East European region.
Closing the Security Gap with Fortinet Security Fabric Solutions on Microsoft Azure
While more and more enterprises are turning to Microsoft Azure to extend internal data centers and take advantage of the agility of the public cloud, Fortinet Security Fabric provides Azure and Office 365 users broad protection, native integration, and automated management enabling customers with consistent enforcement and visibility across their multi-cloud infrastructure. The Fortinet Security Fabric offers deep multi-layer-security protection and operational benefits for securing applications, preventing zero-day threats and managing global security infrastructures from the cloud.