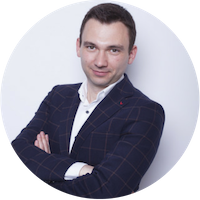 Business Development Manager | ARGGO CONSULTING
Alexandru Radu is a passionate business developer with 14+ years of proven capability in driving success for industry leaders using a special brew of business solutions knowledge, consulting experience and customer service excellence.
After a career in programming, consulting, project management and training, he turned into a trusted advisor for customers bridging the gap between the technical and business worlds of the software industry.
Adapt to the new normal with low-code Business Applications
The BPM platforms are here and already fundamentally changing the way we build the next generation of Business Applications. Today we can easily create a user-friendly application from any business flow regardless of its complexity and effortlessly integrate it with any software.
At Arggo Consulting we have created Arggo BPM which enables us to provide our clients with the needed edge over their competition. Arggo BPM streamlines the way companies work by mapping complex workflows, constantly changing rules and disparate data from legacy systems into a platform where processes are easy to deploy and manage. Without requiring any programming knowledge, the platform enables rapid visual modeling of web applications that can then be accessed from any device.
Sounds interesting? Come and see what Arggo BPM can do for your company no matter its activity, its size, and the complexity of its activity.