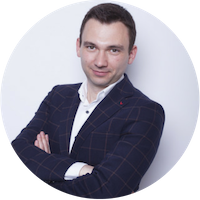 Head of Business Growth | ARGGO CONSULTING
Passionate about helping companies transform to thrive in the digital era, Alexandru Radu is a business growth enthusiast with 17+ years of proven capability in driving success for industry leaders using a special brew of digital business solutions, consulting experience, and customer service excellence.
After a career in programming, consulting, project management and training, he turned into a trusted advisor for customers bridging the gap between the technical and business worlds of the software industry.
Timeqode – Time-as-a-Service for People and Businesses
Adapting to changing conditions is an important part of our lives and our businesses. Times change and businesses change with them. If we want to achieve success as a person, company, or entrepreneur, we need to learn how to adapt. Companies must be tuned to trends of business environment changes, understand them, and quickly react to refine or transform their business model according to the proper context.
Improving execution and tracking of key processes is critical to the survival of the company and can provide the needed edge over competitors. Successful companies invest in optimizing core processes to respond faster and deliver higher quality services to their customers while reducing operational costs and improving profitability. Now it is the best time to streamline the way your company works by mapping complex workflows, constantly changing rules, and disparate data from legacy systems into a platform where processes are easy to deploy and manage. Without requiring any programming knowledge, Arggo Consulting's low-code development platform enables rapid visual modeling of web applications that can then be accessed from any device.
Discover what the platform can do for your company no matter its activity, size, or complexity.