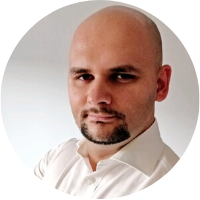 Inside System Engineer | VEEAM SOFTWARE
Cristian Sutey is an experienced System Engineer with a demonstrated history of working in the information technology and services industry (hardware/software/visualization/backup solutions).
From a very young age, Cristian started his career in music, but after more than 12 years of mastering several instruments such as violin, piano, and bass guitar, he decided to change careers and dedicate his latest 15 years to the IT industry going through all its heights and depths:
from hardware sales & servicing to customer support
from internal IT requests to Account Administrations
from Sys Admin to Veeam Certified Engineer.
Cristian works closely with his sales teams on Eastern Europe, South and Central Africa regions, delivering technical sessions to partners and customers, or any Veeam enthusiast across his regions both on-site and remotely.