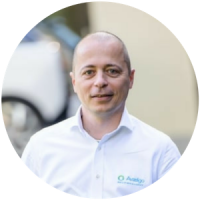 Digital Transformation Manager | AVAELGO
Daniel Popescu is the Digital Transformation Manager of Avaelgo.
Before Avaelgo he worked for Microsoft Romania for more than 18 years, with more than 11 years in Microsoft IT. He worked as Helpdesk Service Technician for 5 years, and after he was IT Manager for Microsoft Romania. During this period he managed the IT for Sales, Marketing and Services division, Customer Support division, and CIAO Shopping division. During his period as IT Manager, he was one of the first IT peoples from Microsoft that implemented Hyper-V in Europe, the Middle East and Africa region.
Later, Daniel was a Partner Technology Advisor and Strategist for Microsoft partners and Account Technology Strategist for Enterprise customers for the Financial and Insurance Industry.
Ever since joining Avaelgo, he acted as a "trusted advisor" for CIO's in order to build a common strategy, a strategy that includes Microsoft technologies and solutions.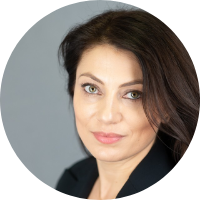 Digital Transformation Adviser | AVAELGO
With more than 18 years' experience in IT&C and Telecommunication, Project Management, Strategy, Sales & Marketing areas, Cristina Barbu has led complex business motions &tactics across Central Easter Europe and Russia.
In her roles she always focused on people capabilities, potential, engagement and how teams and collaboration can support achieving business goals.
She worked for 11 years for Microsoft and in her last roles she led the Microsoft 365 business as a Business Group Lead for Romania and as Small Business Lead for Central Eastern Europe.
Since 2018 she is collaborating with Avalego as Digital Transformation Adviser closely working with customers and addressing both technical and people side of transformation, develop a clear picture of processes to be optimized and technologies to be used, and a tailored plan to transform the organization that can be managed and executed upon; Profiling the organization (employees profile, current status of processes and operations, tech affinity, needs, impact, blockers and solutions) in order to support adoption of technology& cultural change at scale by building customized communications, education, methodologies.
She is now practicing psychoanalytic psychotherapy part of Dutch Foundation for Psychoanalytic Psychotherapy – FROPP and she is working as systemic coach.
Microsoft 365 Migration – Tips & Tricks for Enterprise companies on Strategy and Planning
Participation at the Cloud Conference is free, based on prior registration.