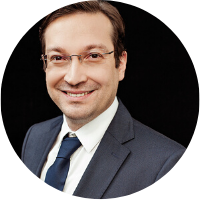 Director of Marketing & Operations | MICROSOFT ROMANIA
Daniel Rusen is the Director of Marketing and Operations at Microsoft Romania. He acts as an accelerator of transformation, driving clarity, accountable for delivering results across our core solution areas to enable customer and partners digital transformation success.
Drive impactful Connected Sales & Modern Marketing execution to enhance customer experiences & deliver new revenue opportunities aligned to our core solution areas.
Building capability across all employees, partners & the market for sustainable business performance. Drive business and sales insights for leaders, managers and sellers to inform decisions that enable growth
Accelerating Digital Opportunity
In every industry around the world, the past year has seen organizations adjust to challenges, pursue new business opportunities, and accelerate their digital capabilities in the face of the pandemic that has reshaped our world.
But over the past year, our priorities have also shifted.
There's no going back to the level of digital adoption we saw before the pandemic – what we used to call "digital transformation" has now become digital acceleration
Let's explore and understand 6 questions, for now, that will shape the future, accelerate our digital opportunity, and unlock the inside potential for #RomaniaDigitalHostpot.