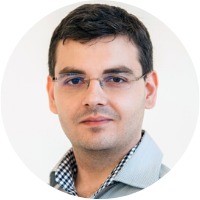 Cloud Solutions Architect | AVAELGO
Florin Loghiade is a Microsoft Azure MVP and Microsoft Certified Professional. He works as an IT consultant focused on Microsoft solutions based on Windows Server, System Center, Hyper-V, Azure, and Automation.
Florin's current main focus is implementing and managing on-premise and cloud solutions based on Microsoft Windows Server, System Center and Azure, eliminating all the tedious management tasks using PowerShell and PowerShell DSC.
Digital Transformation in the Cloud: Prerequisites, Caveats & Risks of Going to the Cloud
Continuing from where we left things off during the morning discussion on Digital Transformation, we are now going touch base on some more specific challenges.
This session will focus on the technical aspects and potential issues faced when migrating to the Cloud (be it Microsoft 365, Azure, or both), as well as ongoing and proactive approaches when it comes to incident handling, security, change management and cost control once the migration is completed.
Participation at the Cloud Conference is free, based on prior registration.