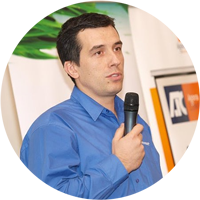 Account Technology Strategist | MICROSOFT
Ovidiu Pismac is Account Technology Strategist at Microsoft Romania. He is a trusted advisor for Microsoft Romania enterprise customers.
Since 2006, Ovidiu has been responsible for Microsoft management, virtualization and security solutions from the System Center family or the hybrid Operations Management Suite for Windows or Linux. His focus is Microsoft virtualization solutions (Hyper-V, APP-V, VDI, and RDS), Windows Server and Windows Client platforms. Ovidiu is also involved in the area of Microsoft security solutions: Windows Defender Advanced Threat Protection and integration with various Windows / Linux / Mac OS X platforms, Advanced Threat Analytics, PKI Windows Server Certificate Services solutions.
Hybrid Management and Security – Azure Arc & Azure Security Center and short overview Windows Server 2022
Windows Server 2022 – latest Microsoft server operating system platform – short overview
With Windows Server 2022, you can continue to securely run workloads, enable new hybrid cloud scenarios, and modernize applications to meet evolving business requirements. Let's dive into the new technical capabilities of Windows Server 2022 and how you can take advantage of these to modernize their server environment.
Hybrid Management and security for your infrastructure servers with Azure Arc and Azure Security Center
Azure Arc offers simplified management, faster app development, and consistent Azure services. Easily organize, govern, and secure Windows, Linux, SQL Server, and Kubernetes clusters across data centers, the edge, and multicloud environments right from Azure
Azure Security Center is a unified infrastructure security management system that strengthens the security posture of your data centers, and provides advanced threat protection across your hybrid workloads in the cloud – whether they're in Azure or not – as well as on premises.